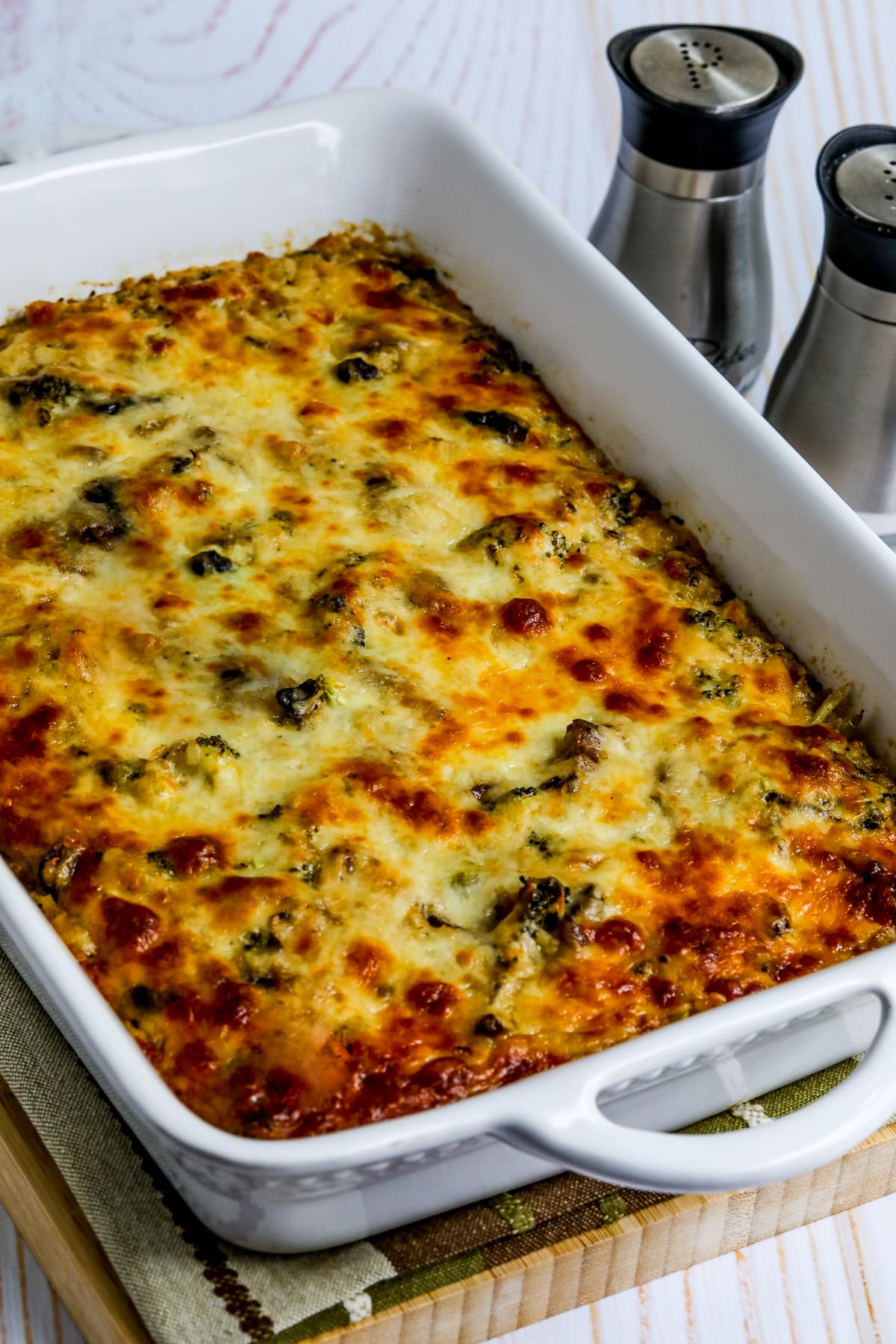 Cheesy Vegetarian Casserole (with Cauliflower Rice) is a tasty low-carb meatless dinner for people who like broccoli, mushrooms, and cheese. And this tasty casserole that's loaded with vegetables has only 12.5 net carbs in a generous serving.
PIN Cheesy Vegetarian Casserole to try it later!
Let me tell you the history behind this Cheesy Vegetarian Casserole (with Cauliflower Rice)! Years ago, I started my healthy eating journey with the original South Beach Diet. In those days I ate a lot more brown rice, whole grain pasta, and higher carb veggies than I do now. But now, although I still have readers who are South Beach Diet fans, I think most people who follow me now want recipes that are lower in carbs.
However, I still have some amazing recipes from those SBD days on the site, so I've been having fun adapting them into more carb-conscious versions. Years ago I created a Cheesy Vegetarian Brown Rice Casserole. (You can use that link to see the original recipe.) That casserole is still delicious, but high in carbs compared to the recipes I'm featuring now.
So we decided that casserole needed an update, and Kara and I worked on it a few times to create this new low-carb vegetarian casserole that's just as delicious. And this recipe is a bit more substantial than the original recipe, and also a bit more cheesy!
If you like broccoli, cauliflower, mushrooms, sour cream, and cheese, I bet you're going to love this tasty casserole for a meatless main dish or a perfect side dish. I hope you'll try the recipe!
The post Cheesy Vegetarian Casserole (with Cauliflower Rice) appeared first on Kalyn's Kitchen.