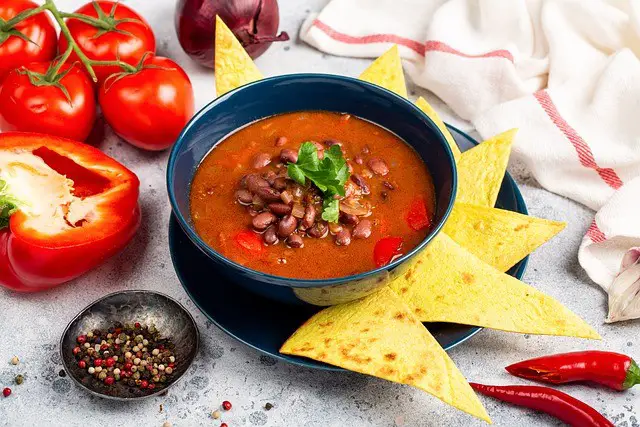 When eating keto, you may be limited to certain foods and ingredient lists. Some of your favorite foods may be off-limits. This is because of their high carb content which prevents you from entering the fat-burning phase. It is important to get creatives and find low-carb variations of your favorite foods, so you don't feel like you're missing out when dieting!
Regular tacos are not keto-friendly because tortillas or taco shells are made from high-starch ingredients. But you can still enjoy this recipe by being creative with your cooking method. One way you can enjoy tacos is through low-carb and keto soup recipes.
In this article, we will discuss taco soup, taco soup carbs, its nutritional facts, healthy keto taco soup recipe, and different variations to this recipe. Let's get right into it.
Taco Soup Carbs
You don't have to limit yourself to bone broths, beef broth, and non-starchy vegetable soups all the time just because you are on a diet. Keto taco soup allows you to enjoy the goodness of having tacos without messing up your carb intake. The best place to start our discussion is, what is taco soup and how is it made?
What is Taco Soup?
This is a type of soup that is made from the same ingredients you would put in your taco. These include ground beef or chicken, onions, corn, black and pinto beans, chili pepper, taco seasoning, and tomatoes.
The soup is easy to make, is made from simple ingredients, and takes a short time to prepare. The issue with the original taco soup recipes is they contain high-carb ingredients that will kick you out of ketosis. This is why you need to leave out some ingredients and only work with those with a lower carb count for the ultimate low-carb taco soup.
Taco Soup Nutrition
Taco soup has a heavy consistency like chili soup and usually uses ground beef and beans as the main sources of protein in the dish. According to the USDA, a cup serving of this soup provides you with:
Energy: 278 kcals
Total carbs: 33 grams of carbs
Dietary fiber: 7.2 grams of fiber
Net carbs: 25.8 grams of carbs
Sugar: 8.6 grams of sugar
Protein: 20 grams of protein
Fat: 8.6 grams of fat
Cholesterol: 28 mg
Sodium: 503 mg
This beef vegetable soup recipe contains kidney beans, ground beef, onions, beans, tomato sauce, taco seasoning, red chili peppers, corn, and tomatoes. Clearly, taco soup carbs show that it is not keto. In addition, it has a high sodium content that is not good for your heart health.
Is Taco Soup Healthy?
There's no direct answer to this question. Healthy is subjective depending on an individual's goals and requirements. Certain versions of this soup are healthy. There's no doubt that its basic ingredients make it quite nutritious. But for heart health-conscious individuals and weight watchers, the original recipe may not be considered healthy.
The good news is that this soup is very versatile. You can throw in a bunch of ingredients tailored to meet your requirements and turn it into a healthy option for you. With the right ingredients, this soup can be healthy on a low-carb diet!
Low-Calorie Taco Soup
Low calorie doesn't usually translate to low carb. Low-calorie taco soup gets most of its energy intake from carbs and proteins. The main ingredients for this nutrient-rich food are beef, vegetables, and legumes. But this may keep you off the fat-burning state, making weight management a hard task to achieve.
If you're looking to shed off a few pounds, consider carb counting than calorie tracking. So, let's talk about taco soup carbs!
Low-Carb Taco Soup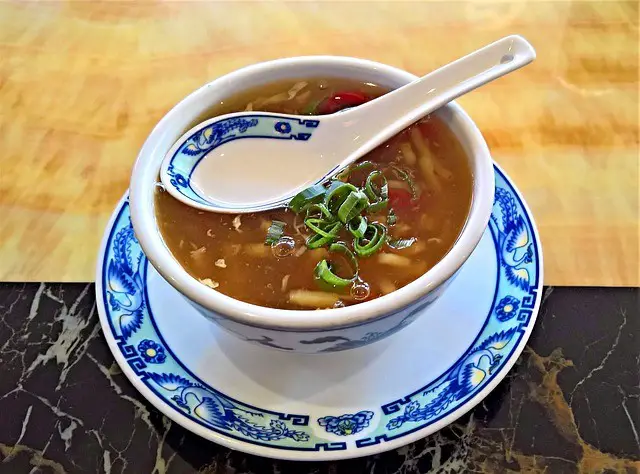 The keto taco soup will have you enjoy the best of both worlds in terms of flavor and eating low carb. It maintains the zesty taste of tacos filled with a balance of spices to give loads of flavor to your soup. This balance of flavor is not only delicious but is warm and comforting on cold days. The best part of it is it allows room for creativity when picking your favorite taco toppings.
What are your low-carb taco ingredients that build up to this calorie-rich food? You will need:
Lean ground beef/ lower fat ground beef/ ground turkey/ground chicken: Whichever animal-based protein floats your boat, go for it! Poultry like chicken and turkey have fewer carbs compared to beef.
Taco seasonings: I would prefer you make your own at home, considering store-bought seasonings may contain additives that increase carb count. Make yours by combining onion powder, paprika, chili powder, garlic powder, Himalayan pepper, cayenne pepper, and black pepper.
Beef or bone broth: whichever broth you choose depends on what you like and the flavors you hope to achieve. Avoid store-bought broths because they contain additional salt which is not good for your heart.
Tomatoes: Canned tomatoes and tomato sauce may contain added sugars. Where the recipe calls for undrained tomatoes, you can substitute them with fresh tomatoes.
Ranch dressing: Store-bought ones may seem convenient but contain preservatives and flavorings that are generally not good for your health. It will take you only 5 minutes to whip up your dressing! Combine Greek yogurt, sour cream, garlic powder, cayenne pepper, sea salt, and onion powder and refrigerate for half an hour.
These are the ingredients you need for your keto taco soup recipe. Another aspect that is important in this soup is your toppings. Your favorite taco toppings may have a high carb count and need to be substituted so you don't exceed your carb limits.
Here are some good low-carb toppings that can replace your favorite taco toppings:
Avocado: you can go basic and use avocados or elevate your dish by throwing in onions and fresh tomatoes to your avocado to make guacamole.
Onions: This can be a keto-friendly crunchy topping to add texture variation to your soup. Onions for flavor as well is not such a bad idea, now is it?
Sour cream: Cut the heat from your seasonings while adding lots of flavors to your dish using this topping.
Cilantro: Another keto-friendly crunchy topping is cilantro. It'll add a good aroma to your soup.
Peppers: You can use bell peppers of different colors to brighten your dish.
Low-carb tortilla chips: Make these chips with low-carb flour for baking and you won't have to worry about your carb intake.
Cheese: There's always something about creamy cheese goodness on the texture of your soup. Go for keto-approved keto cheeses like cheddar cheese, light cream cheese, or any other pre-grated cheese.
Lemon wedges: lemon and lime wedges can also be a good choice when picking a low-carb topping. The acidity of your lime juice can bring variety into your flavors.
It is important to mention that it is better to make your taco soup than to get store-bought taco soup mixes. This is because these options are high in carbs and sodium. In a 100 g serving of taco soup mix, you will get 57.1 g of total carbs, 14.3 g of fiber, 42.8 g of net carbs, and 8000 mg of sodium. This will not only kick you out of ketosis but will increase your risk of developing cardiovascular disease.
You now know what you need, why not get cooking?
Low-Carb Taco Soup Recipe
I'll provide you with an easy recipe for taco soup that does not take too much time to prepare. In addition to this, I'll give you low-carb soup recipes that are variations of the first simple one. If you're into creamy textures, you can go for the creamy taco soup.
There are a few tools that are preferred when making your soup. Your choice will depend on how much you're making and how much time you have.
Instant pot: If you don't have a lot of time, consider using this equipment. It'll do the job of a slow cooker and pressure cooker. All you have to do is sauté your seasoned ground beef or ground chicken, onions, and garlic until brown. Then add the other ingredients (except cheese if cooking with it) and pressure cook for 10 minutes. Pressure release naturally when ready. Stir in your cheese.
Crockpot: If you want your soup to cook for a long time without having to check on it, this is your best bet. When cooking with a slow cooker, all you have to do is throw all your ingredients (except cheese) into the pot. Cook over high heat for about 3 hours or low heat for 6 hours.
Stock pots: if you want to make a lot of soup at a go, then use this option.
20-Minute Easy Taco Soup Recipe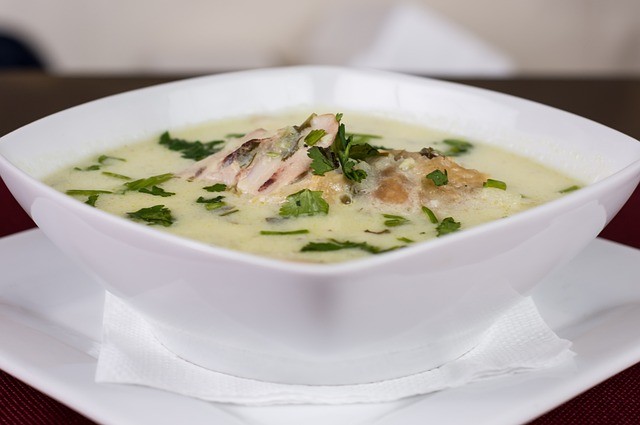 You only need 5 ingredients for this recipe.
Ingredients
3 tbsp. taco seasoning
1 pound ground beef
3 cups beef broth
2 cans of tomatoes (undrained tomatoes) or 2 cups of diced tomatoes
3/4 cup ranch dressing
Recipe Instructions
Cook your ground beef in a large pot over medium heat until brown.
Add 2 tbsp. of your seasoning and mix.
Pour one cup of beef broth (or desired broth) and simmer for 2-3 minutes or until there's little liquid left.
Pour in the remaining broth, undrained tomatoes, or diced tomatoes and seasoning into your pot. Stir to mix.
Bring to a boil over medium-high heat, then simmer over low heat for 10 minutes.
Turn off the heat and allow to sit for 2 minutes. Stir in your ranch dressing.
Serve while still hot.
Creamy Taco Soup Recipe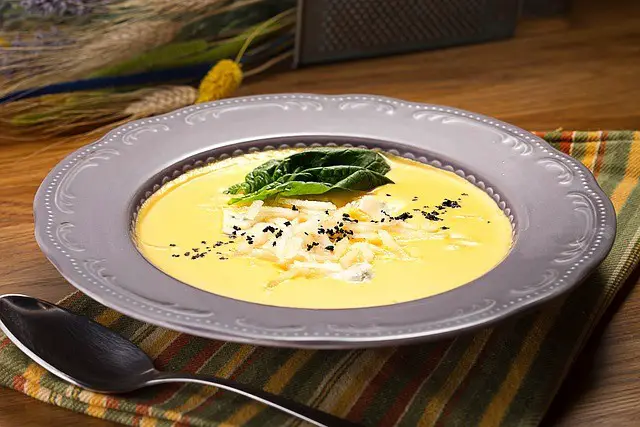 I am a big fan of the creamy cheese goodness of soups. For this recipe, we will add cream cheese for our texture and top our soup with avocado and lime wedges.
Keep in mind to use room temp cream cheese because cold cream cheese separates in soup, leaving chunks of cheese in your soup. If you're going for a smooth consistency, room temp cheese will easily melt compared to cold cream cheese.
Ingredients
1 pound ground beef or poultry
1 tbsp. coconut oil
1 small onion, diced
3 medium-sized tomatoes, chopped
1 small bell pepper, diced
1 cup heavy cream or an ounce of cream cheese
2 tbsp. homemade taco seasoning
Sea salt to taste
1 1/2 cup bone broth (or broth of choice)
Recipe Instructions
In a Dutch oven, add your coconut oil over medium-high heat.
Add your ground beef, onions, and garlic, and cook till brown.
Add your bell peppers, cream cheese or heavy cream, tomatoes, and seasonings. Cook until tomatoes are tender.
Pour in your broth and simmer on low-medium heat until your desired thickness is achieved.
Serve in bowls and top with lemon wedges and avocado slices.
Taco Soup Protein
Keto taco soup carbs are not the only thing that makes this food ideal. Whether keto or not, taco soup is a great source of protein. A cup of regular taco soup contains 20 grams of protein. A cup serving of our easy-to-make taco soup provides you with 14.9 grams of protein. This creamy taco soup recipe contains 21 grams of protein per serving.
Low-carb chicken taco soup will provide you with 23 grams of protein per cup serving.
Low-carb taco soup is moderate in protein making it a good keto addition to your soup recipes.
Bottom Line
Taco soup carbs are too high for it to fit into a ketogenic diet. However, you can get rid of the regular high-carb ingredients like beans and corn and substitute them with high-fat products for a keto food option. Choosing non-starchy veggies will also ensure your soup is low-carb.
The toppings you choose go a long way in ensuring you keep your carb intake within the recommended keto carb allowance. Cheeses, veggies, avocados, and sour cream are great examples of these toppings. These will bring a burst of flavor plus texture variation to your soup.
Do you prefer the basic or creamy taco soup variation? Which toppings work best for you with this soup? Share your thoughts in the comments below!