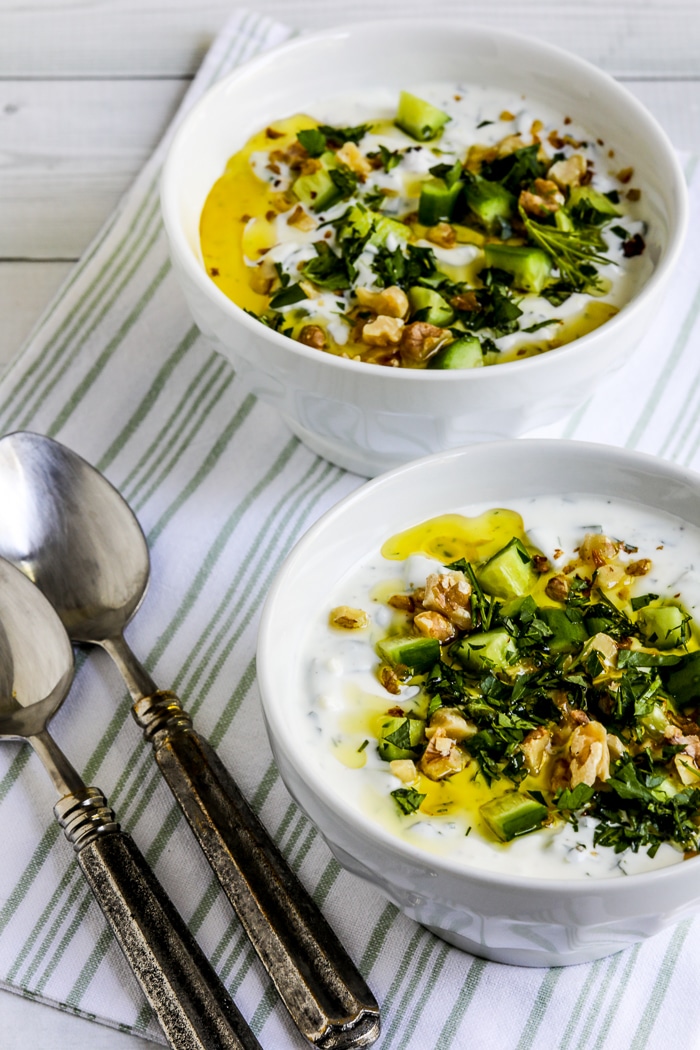 When it's too hot to cook, this low-carb Chilled Cucumber Yogurt Soup called Tarator is refreshing, delicious, and ready in minutes. See the links in this post for 10 more amazing cold soup recipes that are also low in carbs!
PIN the Tarator Soup Recipe to try it later!
Anyone who watches the news has heard that all over the world there are extreme high temperatures this summer. And if your part of the world is having very hot weather right now, it's a perfect time to make some chilled soup!
I became a convert to the idea of cold soup a few years back when I made Gazpacho, and I was amazed at how delicious and refreshing it was. The chilled soup called Tarator that I'm sharing today is something that's popular in a few different parts of the world. And if you google the word Tarator, you'll see it can refer to a Bulgarian soup or a Lebanese garlic sauce, two completely different foods with the exact same name!
My version of this chilled cucumber yogurt soup was adapted from a recipe I spotted in Zahav: A World of Israeli Cooking (affiliate link), a cookbook from the world-famous middle eastern restaurant that's been at the top of my must-eat-there list for a few years now. And to me this soup definitely has a lot of middle eastern vibes.
I was flipping through the book on a day when the temperature in Salt Lake was nearly 100F, so it's no wonder that cold soup seemed like a brilliant idea. We loved it when we tested the recipe, and my friend Virginia who stopped by to sample the things we were testing that day also gave it a thumbs up!
The post Tarator Soup (Chilled Cucumber Yogurt Soup) appeared first on Kalyn's Kitchen.