Combine your love of Snickers and ice cream with this deliciously easy sugar free (and guilt free) dessert! Just a few ingredients, a few minutes in the freezer (or skip the freezer part) and this dessert is going to WOW your family! Check our tips below for picking out the best yogurt and chocolate!
---
Recipe:
1/2 Cup Low Carb Plain Yogurt
1.5 TBSP Peanut Butter
1 TBSP Chocolate Drizzle or Chocolate Chips
1 TBSP Peanuts
Optional: Sea Salt
Spoon Yogurt into a bowl.
Mix in Peanut Butter until well combined.
Top with Chocolate, Peanuts and Salt.
Freeze for 10 minutes if you want it to taste like ice cream.
Eat right away and it will taste like a Snickers Mousse!
Tip: If you're not counting macros, this recipe works great without measuring. I typically take three big spoon fulls of yogurt, one spoon full of peanut butter and then just drizzle some chocolate on top. The macros below are for the measurements used.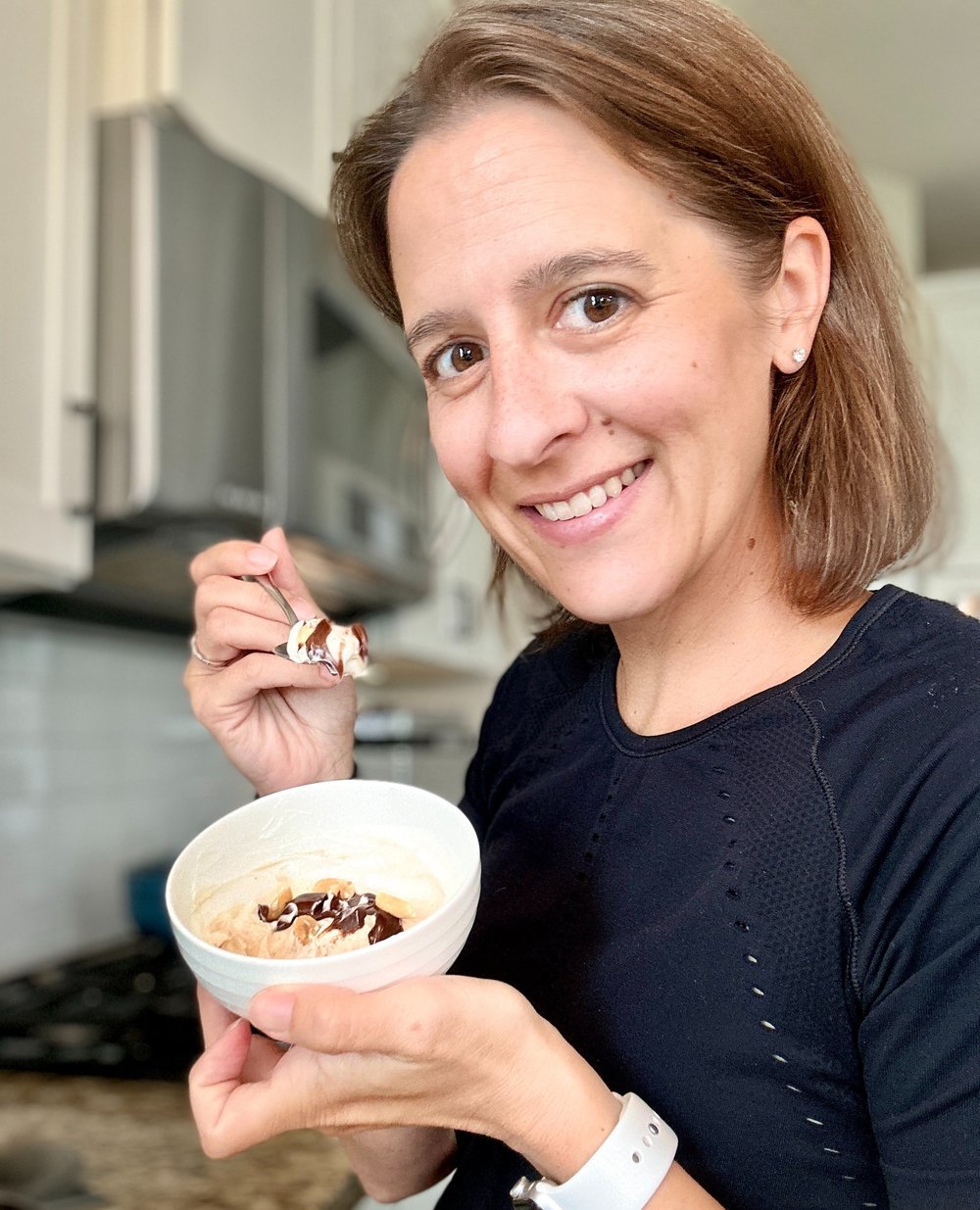 Macros: Calories 405, Fat 28g, Carbs 19g, Fiber 11g, (Net Carbs 8) Protein 22g
---
The Keto Dad Tips and Tricks:
Finding the best yogurt: Choose a Plain yogurt (not vanilla). Whole milk Greek Yogurt usually has the least amount of carbs. We get Target's greek whole milk yogurt. It has 5 carbs per 3/4 cup. There are specific Keto yogurts as well that have lower carbs – like Ratio or Two Good. Find the best option for you!

Chocolate options: We love the ChocZero Chocolate Hazelnut spread (it's like Nutella). The majority of the total carbs come from this option… so if you want to lower TOTAL carbs, choose a different chocolate option.

You can also use keto friendly chocolate chips! Buy a Keto brand like Lily's or ChocZero. Or just grab a dark chocolate with the lowest carbs possible.

Want to stay peanut free? Use a sugar free almond butter! Skip the peanuts on top or add sliced almonds or pecans.

Macros will vary based on the ingredients you use. We calculated macros using ChocZero and Peanuts.
---
Watch The Keto Dad make this recipe!