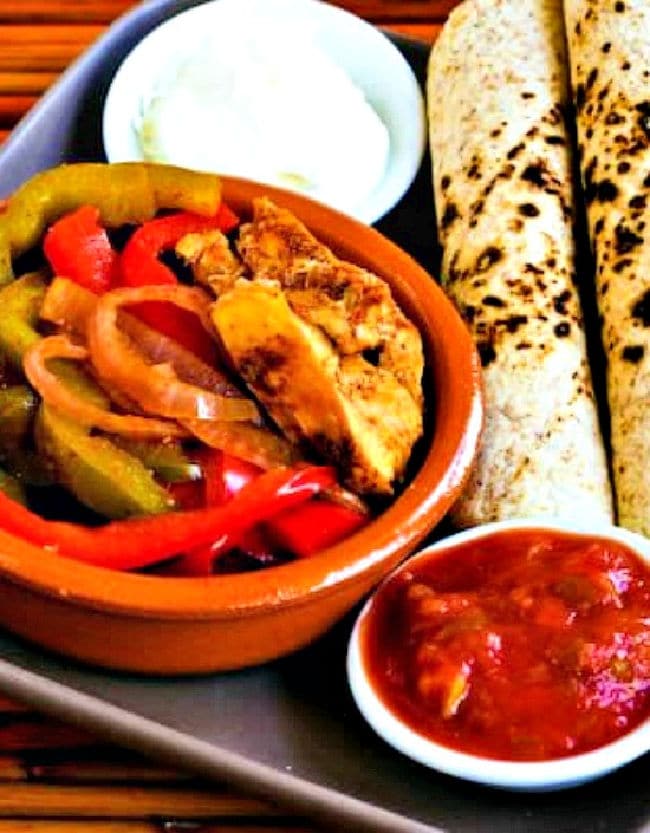 Slow Cooker Chicken Fajitas are an easy dinner idea and with low-carb tortillas or cauliflower rice this is a delicious low-carb meal! And Crockpot fajitas can cook in a few hours and they're great to make in the summer when you don't want to turn on the stove.
PIN Slow Cooker Chicken Fajitas to try it later!
I got this recipe for Slow Cooker Chicken Fajitas from a blog called MomFood, written by a blogger named C. Jones who graciously agreed to let me republish it here. That blog disappeared shortly after I got the recipe, although some time later C. Jones did leave a comment on the original post.
At the time she was still reading Kalyn's Kitchen, so if she's still reading now, I hope she'll be pleased to see I'm still enjoying this chicken fajitas recipe, and recently I made fajitas in the crockpot and took a few pictures. Of course, I know these chicken fajitas made in the slow cooker aren't really fajitas like the ones that come on a sizzling plate at a restaurant, but this recipe is still pretty delicious even without that fajita sizzle.
These easy-to-make Chicken Fajitas are delicious any time of year, but I especially love to make this for Cinco de Mayo or in the summer months, because this is a no-fuss recipe and using the slow cooker will keep your kitchen cool.
The post Slow Cooker Chicken Fajitas appeared first on Kalyn's Kitchen.