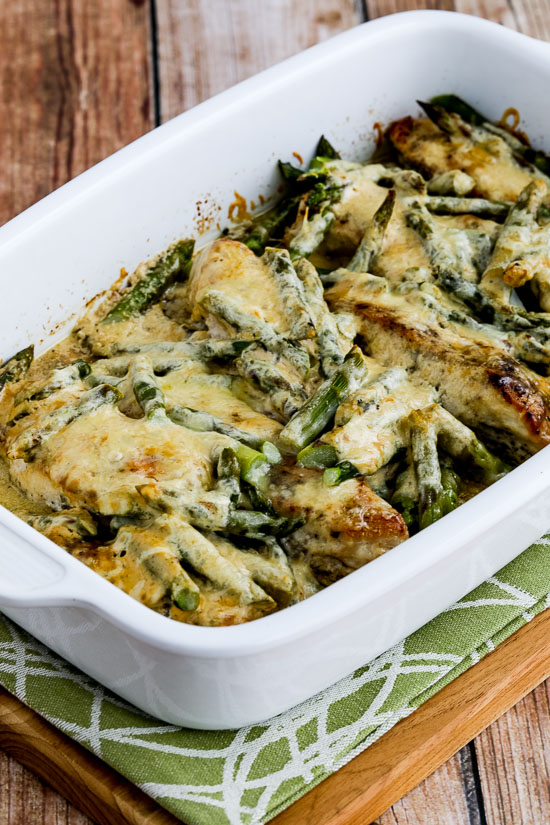 This casserole of Chicken and Asparagus with Three Cheeses is a delicious low-carb dinner that's perfect for spring. And if you like chicken and asparagus (and cheese!) I promise you're going to love this creamy, cheesy low-carb dinner recipe with some of my favorite ingredients!
PIN the Chicken and Asparagus recipe to try it later!
Chicken and Asparagus with Three Cheeses is a delicious and easy casserole recipe that I've loved for many years, and today I am featuring it as my Friday Favorites pick to remind you to make this while asparagus is in season and the nights are still cool enough to use the oven. And I hope you will discover how absolutely delicious this dinner is for a perfect cheesy casserole that combines chicken and asparagus!
And this recipe with two of my favorite ingredients is an easy and amazing combination that would be impressive enough to serve for dinner guests. The only thing slightly tricky about this creamy chicken and asparagus dish dish is not to cooking the sauce or baking it too long or the sauce will separate. This is an ongoing issue for me with sauces when they aren't thickened with flour or cornstarch, but even if that happens, this will still be delicious!
I love fresh asparagus on sale as a sign of spring, so this is for all the other asparagus fans; hope you will try the recipe if you like fresh asparagus!
The post Chicken and Asparagus with Three Cheeses (Video) appeared first on Kalyn's Kitchen.