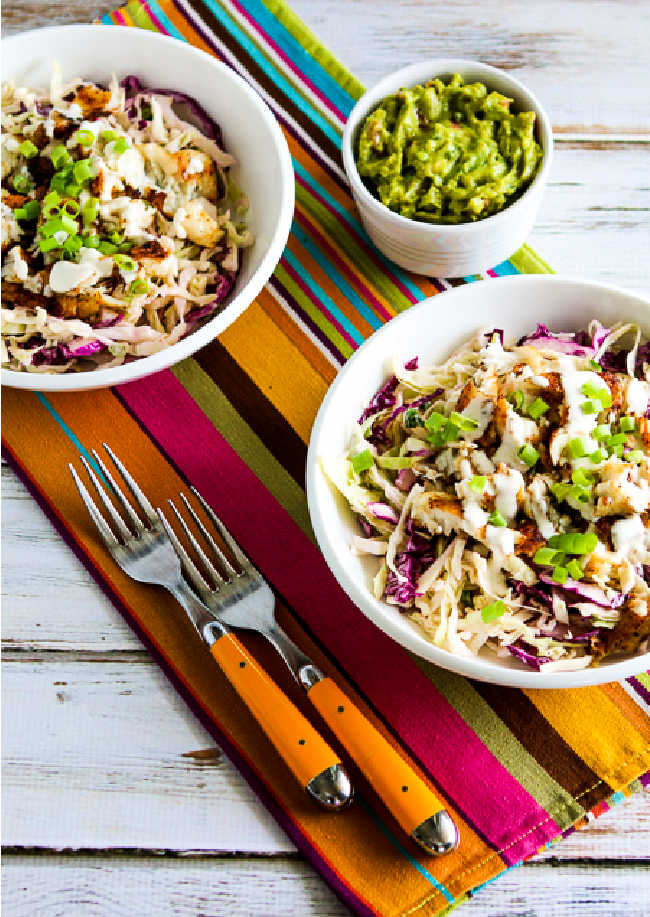 Fish Taco Cabbage Bowls are a delicious and easy-to-make idea that can be a great low-carb or Keto dinner any time of year! And if you prefer, grab some lettuce and make the bowl ingredients into Lettuce Wrap Fish Tacos!
PIN the Fish Taco Cabbage Bowls to make it for dinner later!
Don't you think times when the seasons are changing are the hardest time to plan what to cook? That's just one reason I love these tasty Fish Taco Cabbage Bowls, no matter what the weather is doing that day, this will be a great low-carb dinner. And you might still have some of that cabbage you bought on sale this month, so I am recommending this as my Friday Favorites pick for this week!
And trust me when I say that these low-carb fish taco bowls are really a WOW. My sister Sandee loves this recipe and makes it over and over. And this is one of my personal favorites as well. The Fish Taco Cabbage Bowls were so delicious that when my nephew Jake and I tested the recipe, we kept exclaiming over how good they were.
The cabbage bowls topped with fish taco fixings are definitely an offspring of Sriracha Beef Cabbage Bowls (another recipe I love). I hope you'll give this fish-taco-in-a-bowl recipe a try; I bet you'll love it just like we did for a quick and healthy dinner! Click to continue reading…
The post Fish Taco Cabbage Bowls (Video) appeared first on Kalyn's Kitchen.