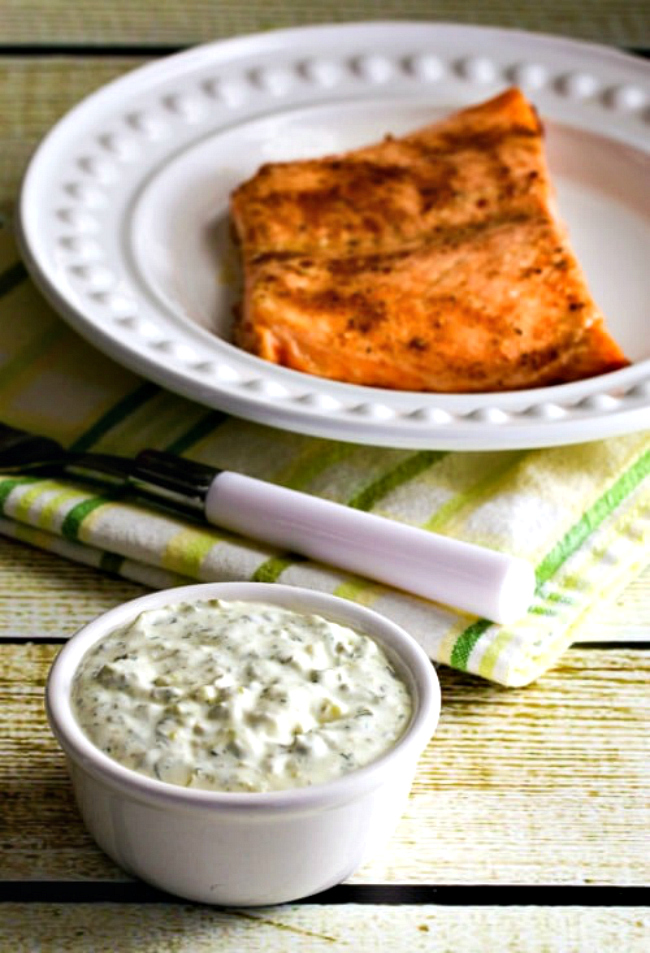 Double-Dill Homemade Tartar Sauce is easy enough to make in minutes, and I love to serve fish with this delicious low-carb tartar sauce! And my homemade tartar sauce is so tasty compared to the kind that comes in a jar that it's worth making at home!
PIN Double Dill Homemade Tartar Sauce to try it later!
Before I talk about how easy it is to make this Double-Dill Homemade Tartar Sauce let me ask, how do you feel about tartar sauce? I'm sure some food snobs might consider it to be a boring condiment, but I absolutely love it and I don't think I'd ever pass up the tartar sauce in a restaurant if I was having some kind of mild-flavored fish.
Unfortunately, most tartar sauce you buy in a jar is not that great, and purchased tartar sauce often has sugar, so it's not diet friendly for many people. And since I'm always trying to eat more fish and I love tartar sauce so much, I decided to come up with a tasty diet-friendly homemade tartar sauce recipe that didn't have sugar and was loaded with flavor.
It took a bit of experimenting, but this recipe for Double-Dill Homemade Tartar Sauce that I now make regularly combines Greek Yogurt (or sour cream), mayo, dill weed, capers, and dill pickle relish or chopped dill pickles, and it's the most delicious tartar sauce recipe I've ever tried!
The post Double-Dill Homemade Tartar Sauce appeared first on Kalyn's Kitchen.