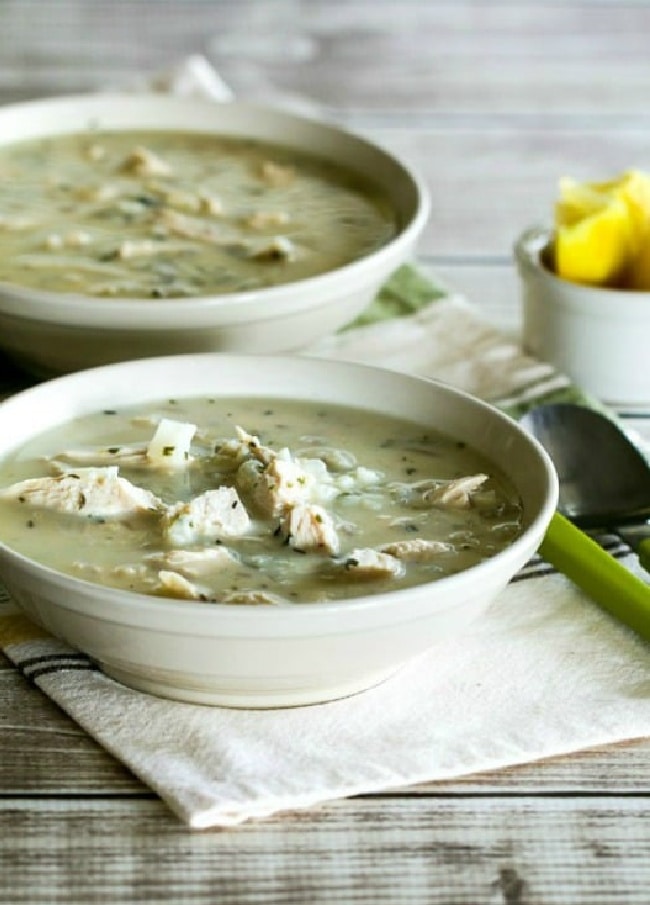 Greek Lemon Chicken Soup is traditionally made with rice, but it was equally delicious with cauliflower rice for a low-carb version! Use either type of rice you prefer for this delicious Greek Avgolemono Soup that's thickened with a mixture of beaten egg and lemon juice.
PIN Greek Lemon Chicken Soup to try it later!
This Greek Lemon Chicken Soup Two Ways is officially called Greek Avgolemono Soup, and this is one of those dishes I've been passionately in love with ever since I tried it! And I think I first had this lemon chicken soup in college, so that's a long time I've been loving this chicken and rice soup that's thickened with eggs and lemon.
I first made this soup for the blog years ago and my version was adapted from The Frugal Gourmet Cooks Three Ancient Cuisines (affiliate link), a very old cookbook with lots of good ideas. I made the soup with leftover rotisserie chicken and chicken stock from the freezer, and I had those things on hand when the idea struck me to try making a low-carb version of this favorite soup by replacing the rice with cauliflower rice!
And the Greek Lemon Chicken Soup made with cauliflower rice was really amazing for a low-carb soup. And personally I think this is a pretty healthy soup no matter whether you use rice or cauliflower rice, and I'm featuring it for this week's Friday Favorites post to see if I can entice you to make it; enjoy!
The post Greek Lemon Chicken Soup Two Ways (Video) appeared first on Kalyn's Kitchen.