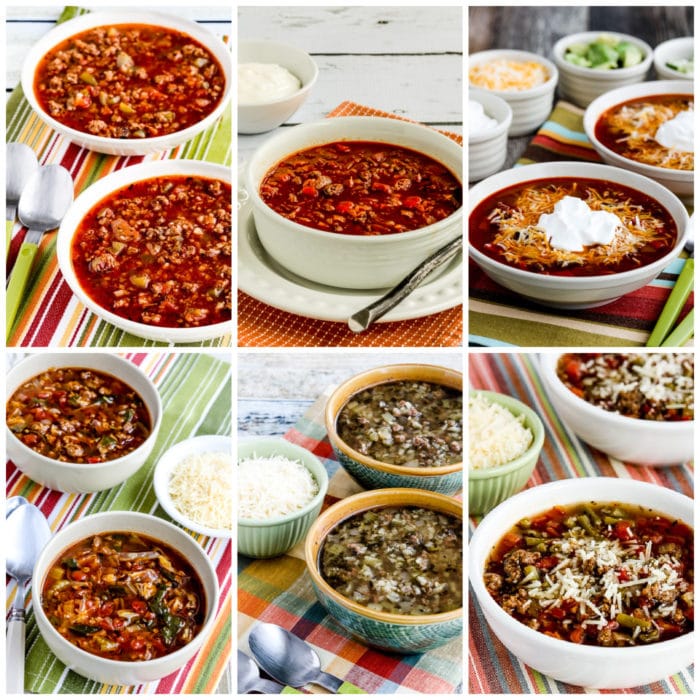 This round-up of Low-Carb Soups with Ground Beef can help you with easy dinners for cold weather; check out these tasty soup recipes! And there are 16 different soups for you to pick from when you're staring at a package of ground beef and wondering what to make!
PIN Low-Carb Soups with Ground Beef to make some later!
Are you having soup weather where you live? I don't like the cold weather much, but I do love making soup and I always enjoy eating a bowl of hot comforting soup on a cold night. And Utah is having plenty of cold snowy days this winter!
And ground beef is something many people always have in the freezer, so I'm guessing soup with ground beef is a good option for dinner option in lots of families! So today I'm updating this collection Low-Carb Soups with Ground Beef for a suggestion of something delicious to cook over the weekend.
There are eight amazing soup recipes here from Kalyn's Kitchen and eight more delicious soups from my low-carb blogging friends, and there's a variety of interesting soup ideas. A couple of these are personal favorites for me, so maybe one of these will end up being being a favorite dinner idea at your house too!
The post Low-Carb Soups with Ground Beef appeared first on Kalyn's Kitchen.