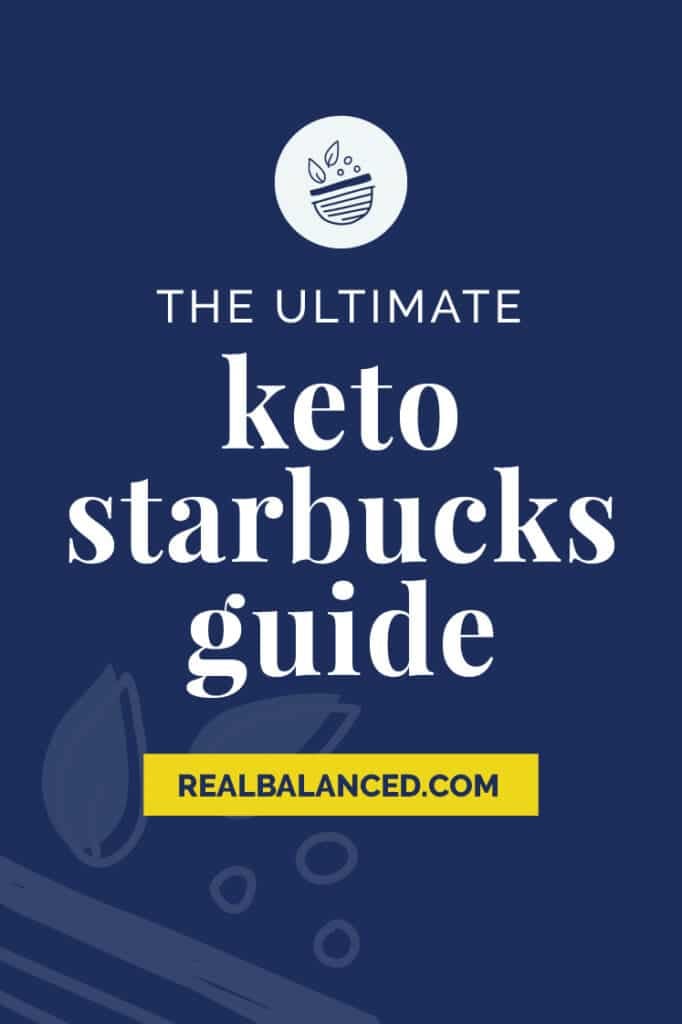 Order keto Starbucks drinks and food without stress or worries! From lattes and mochas to protein boxes and egg bites, this guide will help you order the lowest-carb choices. Try these keto Starbucks options to enjoy a cup of coffee or food on the go without going overboard with carbs. From reliable keto drinks you can order all year to secret menu hacks, this guide will help you order with confidence!
Keto Starbucks: low-carb choices
Even though almost all of the main drinks at Starbucks are filled with sugary syrups, there are still quite a few things you can order that will keep you in ketosis. And yes – you can order more than just black coffee, plain tea, or water!
There are actually many low-carb options available for keto dieters, which we will cover in this post. Let's look at what you can order and what you should avoid.
Tip: Want an easy way to find the sugar and carbs on the Starbucks menu? Use their mobile app – it lists all the nutrition information right where you are ordering. Easy and convenient!
The best keto Starbucks drinks
If there's one thing Starbucks is known for, its menu of drinks! Everything from the classic to new seasonal drinks. The only thing is sometimes all of these drink recipes are not so keto-friendly, with high-sugar syrups and toppings.
Thankfully, Starbucks offers sugar-free syrups that you can substitute into any drink. You can also swap in heavy cream for milk, which will lessen the carb content of your drink, too.
Some teas and drinks are premixed with sugar, so be sure to always order unsweetened tea or espresso shots.
Also, be wary of drinks with "skinny" in the name. They are usually not keto-friendly or low in carbs.
Here are some of the most popular year-round keto-friendly Starbucks drinks you can order:
1. Iced tea or hot tea
You can always rely on iced black tea or green tea and hot tea bags. Some people add heavy cream to their tea with sugar-free sweeteners like liquid Stevia. Other people prefer to drink their tea straight, with no cream or sugar.
2. Black coffee with or without heavy cream and sugar-free sweetener
Just like tea, you can also just order a straight black coffee. Your options are the Pike Place roast, a blonde roast, and a dark roast. If straight brewed coffee is too bitter for you, add some heavy cream and your favorite sugar-free sweetener.
(Note: the heavy cream is not typically out for customers to pour themselves, so you may have to ask the barista to pour some in for you.)
If you want a non-dairy option, Starbucks' almond milk actually has less sugar than their 2% milk. So, if you don't want whipping cream or they don't have any, almond milk may be your next best bet.
3. Latte with sugar-free syrup and heavy cream
You can still get some of your favorite lattes! Just make sure to order them with sugar-free syrups (like vanilla, caramel, or hazelnut) and heavy cream instead of dairy milk. If you want a lighter option, you can ask for almond milk, which, per 8-ounce serving, contains 60 calories, 5 grams of carbs, and 3 grams of sugar. You can even ask for an extra shot of espresso for an extra caffeine kick.
This also applies to cappuccino, mocha, Americano, and any other espresso-based drinks.
Keto-friendly latte tips:
Ask for heavy cream to be subbed in for milk or half-and-half.
Use sugar-free sweeteners such as their sugar-free vanilla syrup or stevia.
4. Iced coffee with heavy whipping cream
Another drink keto dieters enjoy from Starbucks is the iced coffee mixed with heavy whipping cream. This is a really refreshing option on hot days!
You can also use unsweetened almond milk instead of whipping cream. Starbucks' almond milk does contain naturally occurring sugars, so if you want a lower-sugar option, you may be better off finding some at the grocery store and pouring it in on your own.
5. Low-carb mocha
There are two ways to hack this popular drink and cut out the carbs:
You can substitute the milk for half water and half heavy cream. Then, ask for sugar-free mocha syrup and skip the whipped cream.
Another option is to "fake" a mocha. Just order an Americano with one pump of skinny mocha sauce, then add a splash of heavy cream.
6. Chai tea latte
The keto Starbucks chai tea latte has a slightly spicy flavor that wakes you up! However, don't just order a "chai tea latte" as it comes. They are traditionally made from a concentrate that has sugar in it.
Instead, ask your barista to custom-make you one like this:
Tall brewed chai made with two tea bags
2 pumps sugar-free cinnamon dolce syrup
Splash of heavy cream
Then you can add more packets of sugar-free sweetener to it, if you want.
7. Cinnamon Dolce Latte
Ask your barista to make you a keto cinnamon dolce latte like this:
Americano, but not all the way full of water
Ask for the remainder of your cup to be filled with steamed heavy cream
2 pumps of sugar-free cinnamon dolce syrup
(And, for the days you don't feel like leaving the house but still want one, I have a keto cinnamon dolce latte recipe.)
8. Flat white
Another great keto option on the Starbucks menu: a flat white. A flat white is made with two short espresso shots that are topped with steamed milk. It's usually prepared with whole milk, so you'll want to, instead, ask for a flat white with half heavy whipped cream and half hot water.
9. Keto London Fog
Ask for an Earl Grey tea with a shot of heavy whipping cream and a pump of sugar-free syrup to make this drink keto-friendly.
10. Blended coffee drinks
If you want a blended drink, avoid the Frappuccinos as those are loaded with sugar. Instead, order a Blended Coffee made without classic syrup or any other added flavorings.
You can ask for this keto Frappuccino like this:
Grande iced coffee
2 splashes of heavy cream
3 pumps of sugar-free vanilla syrup
No classic syrup and no frappuccino base
Double blended
Keto Starbucks' secret menu options
The fun part about ordering at Starbucks is that you can be creative. You can make up any kind of drink, and your Starbucks barista will make it if they have the ingredients on hand.
The following 5 secret menu options are all low-carb and keto-friendly. Go ahead! Try all of them and pick out your favorite.
1. Keto Pink Drink
Here's how to ask your barista to make a keto pink drink:
Unsweetened Passion Tango tea
2 to 3 pumps of sugar-free vanilla syrup
Light or heavy cream
Splenda (optional)
Note: if you are familiar with the original Pink Drink made with the strawberry açaí Refreshers drink and coconut milk, this keto-friendly version isn't exactly the same. Many people say that it isn't as creamy or flavorful, but it is a fun option to have if you want something from Starbucks that isn't coffee.
2. Matcha Expresso Fusion
This a really pretty green drink, and the flavor is unmistakable. To make this drink keto-friendly, ask your barista for:
Bottom layer: 1 scoop matcha powder combined with water and ice, sweetened with 2 to 3 pumps of sugar-free vanilla syrup
Middle layer: Heavy whipping cream
Top layer: 1 or 2 espresso shots
3. Iced Keto Macchiato
When you are craving a macchiato, ask your barista for this secret recipe:
For the base: Order an Americano with 3 parts water, 1 part heavy cream, and 2 pumps sugar-free vanilla syrup combined.
Pour the shots of espresso right over the base
Add an extra-light caramel drizzle on top
4. Iced White Tea Drink
This keto white drink tastes like peaches and cream. To get it, you can ask for either unsweetened peach citrus white tea or unsweetened black tea.
Iced unsweetened peach citrus white tea or unsweetened black tea
3 to 4 pumps of sugar-free vanilla syrup
Heavy cream and no water
5. Keto Faux Frapp
You can have a keto Starbucks frappuccino. You just have to hack it a little, so it has fewer carbs. Here's how.
Order a cold brew with heavy cream
Add 2 pumps of both sugar-free vanilla and two pumps of sugar-free cinnamon dolce syrup
Blend it up frappuccino style
That's it! This frappe tastes just like the sugary version!
Seasonal keto Starbucks drinks
These limited-time drinks are anticipated all year long, but did you know you can still enjoy them on the keto diet? It's true!
Here are a few of our favorite seasonal Starbucks drinks that are also low-carb. Next time these flavors are in season, you'll know just how to order!
1. Keto Pumpkin Latte
There isn't a keto Pumpkin Spice Latte, but you can order a custom drink that still tastes like pumpkin.
Tall Americano with 1/2 pump of pumpkin sauce and 1 pump of sugar-free cinnamon dolce with a splash of cream.
There are 7 grams of net carbs in this drink.
2. Keto Apple Crisp Drink
With 7 grams net carbs, you can ask for an apple crisp drink like this:
Tall americano with 1 pump apple brown sugar syrup, 1 pump sugar-free vanilla, and light heavy cream.
3. Keto Peppermint Latte
This has a few more carbs than I like (there are 9 grams net carbs in a grande), but if you drink half of it, you can enjoy it!
Order hot grande peppermint mocha with 1 pump of peppermint syrup,1 pump of skinny mocha sauce, and heavy cream.
(Want to make something similar at home? Try my keto peppermint mocha recipe!)
4. Keto Chestnut Praline Latte:
Hack this popular winter drink and get it down to just 7 grams of net carbs in a grande.
Order a grande Caffè Misto with 1 pump of chestnut praline syrup, heavy cream, light chestnut praline topping, and 2 packets of Stevia.
Keto food options at Starbucks
There aren't many low-carb food options at Starbucks, but you can do a few things to order food with the least amount of carbs.
1. Egg bites
The portable and delicious Sous Vide egg bites are incredible. The Egg White & Roasted Red Pepper Egg Bites have 11 grams of net carbs per serving. They also have Kale & Mushroom Egg Bites, which have 9 grams of net carbs per serving!
2. Bun-free sandwich
Order any sandwich on the menu and ask for it without a bun or bread and without any sauce/dressings. Baristas won't always be able to do this, especially if it's quite busy, but it never hurts to ask!
It's also just as easy to order the sandwich and throw away the bread.
3. Starbucks protein boxes
The safest options in these boxes are nuts, hard-boiled eggs, and cheese. They are a convenient choice when you are on the run.
Some boxes come with apples and grapes, which are both higher in carbs. So be careful with your daily carb intake if you decide to eat them (though I always skip them)!
4. Salad
Salads are tricky – they are often full of carb-filled mix-ins. The most low-carb salad option is the grilled chicken & cauliflower tabbouleh salad, which has 15 grams of net carbs.
5. Cheddar Moon Cheese
If you're looking for a crunchy, salty snack, go with these! They're very low in carbs (just 1 gram of carbs per serving) and are a great keto-friendly option.
Ordering keto at Starbucks – it is possible!
You can stick to your keto diet even when eating or indulging in a drink from Starbucks. If it's part of your goals, track your macros, and remember, you can always drink keto diet coffee at home if you want to completely control what is in it.
It's fun to explore new options and try new things – plus, the convenience of Starbucks is often the best part – so try one of these keto-friendly Starbucks drinks above and see which is your favorite!
---
More keto resources
Here are some more helpful articles about following keto that you might find useful:
The post The Ultimate Keto Starbucks Drinks And Food Guide appeared first on Real Balanced.