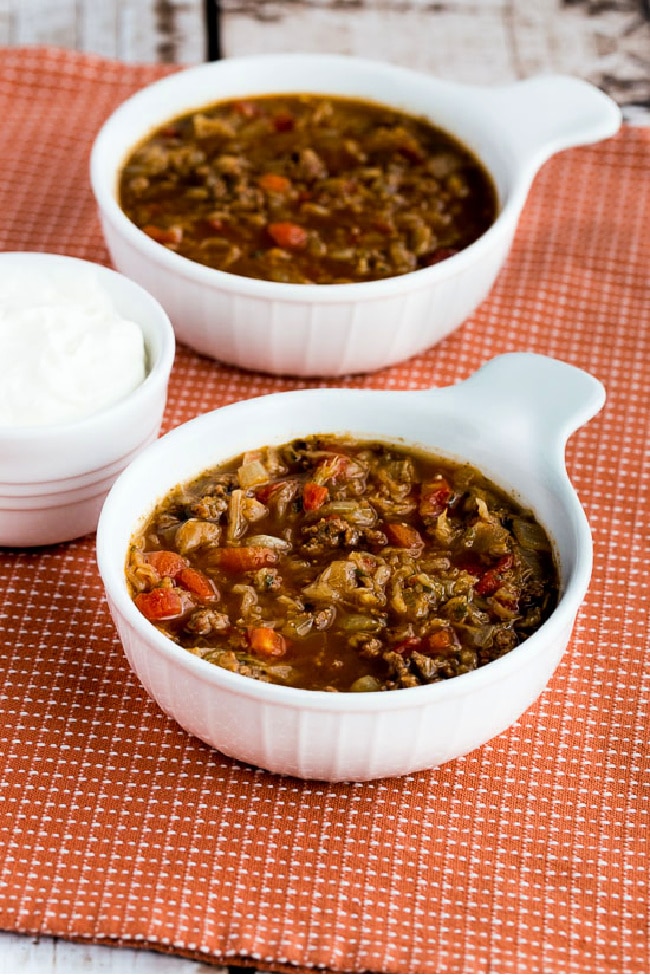 Ground Beef and Sauerkraut Soup is so tasty and the sauerkraut gets sweet and tender as it cooks in this flavorful low-carb soup! Even if you aren't sure if you like sauerkraut, I urge you to give this tasty soup a try!
PIN Ground Beef and Sauerkraut Soup to try it later.
If anyone just rolled their eyes a bit at the mention of sauerkraut in this Ground Beef and Sauerkraut Soup, please stay with me a bit before you dismiss this recipe. There are a few good reasons to give this soup a chance!
First, fermented foods are so healthy which is why they're becoming so trendy, so the sauerkraut in the soup is a very good thing.
Second, this soup is super low in carbs, easy to make, and freezes well.
Third (and most important for people who are skeptical about the sauerkraut!) simmering sauerkraut in soup makes it sweet and breaks it apart into the soup, so that when you're eating the finished soup you might not even realize it contains sauerkraut.
Add some sour cream at the table if you'd like (which is the way I always eat it), and this soup is absolutely delicious!
The post Ground Beef and Sauerkraut Soup (Video) appeared first on Kalyn's Kitchen.