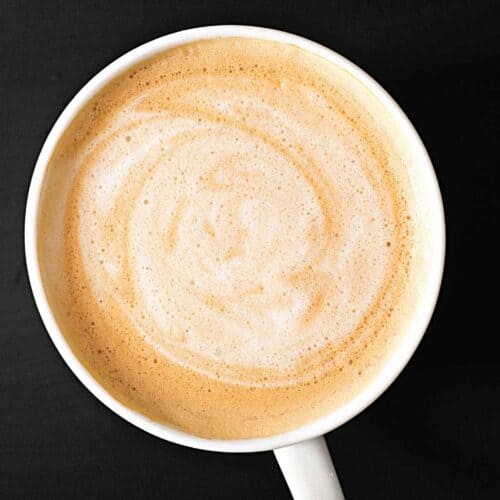 In this post, I go through different ways that you can create this latte, other than what the recipe card states. There are different ways to make espresso and different ways to bring chocolate to the drink.
Use the links below to easily guide you to the information you want.
[feast_advanced_jump_to]
Homemade Salted Caramel Mocha Recipe by Starbucks
Before I created this recipe by Starbucks, I needed to see exactly how they created it.
According to the Coffee At Home website from Starbucks, the ingredients below is how you make their Salted Caramel Mocha recipe in your house.
Ingredients
1 1/2 Tablespoons toffee nut syrup
3 Tablespoons dark chocolate sauce/syrup
1 shot espresso
1 Cup 2% milk
These 4 ingredients are the base of the latte. On top of the drink, they add whipped cream with drizzles of caramel sauce. Lastly, the drink gets topped with a mixture of sugar and smoked salt.
To make this recipe into a sugar-free version is actually very easy. The next heading is all about what ingredients we will use.
Main Ingredients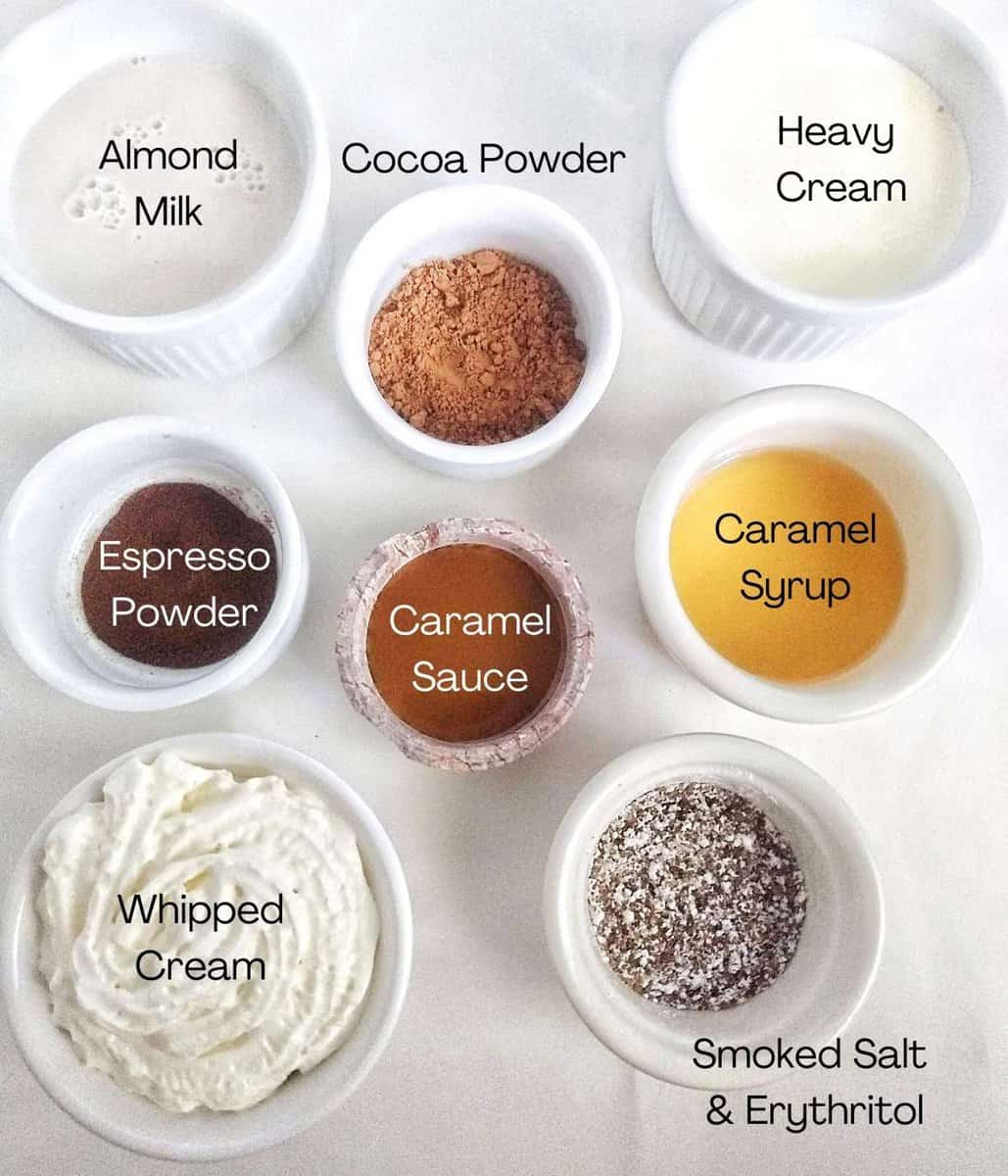 Unsweetened Almond Milk with Heavy Whipping Cream: To create a keto 2% milk, there will be equal parts almond milk and heavy cream.
I also choose almond milk to help make the drink's nutty flavor profile come out some.
Cocoa Powder: To make sure this recipe stayed under 10 total carbs, I used cocoa powder for the chocolate flavor in this latte.
Espresso Powder: I used espresso powder for my espresso as I don't have a fancy machine and I'm sure most of you don't either.
Caramel Syrup: Sadly there is no-sugar free toffee nut syrup flavor that you can purchase. There is a sugar-free toffee syrup but not one with a nutty flavor as well.
So, I choose to use caramel syrup as most other recipe creators have. See below for other syrup options in the Substitutions heading.
Substitutions
Caramel Syrup
This keto recipe uses caramel because it's the easiest and least expensive way to make this recipe since there is no sugar-free toffee nut syrup. However, there are other options available while keeping it sugar-free.
To get a true toffee nut flavor you would want to combine a caramel and nut flavor together.
Since there is no sugar-free toffee nut syrup to purchase, an option is to use two syrups. Combing caramel and hazelnut syrups can do the trick. It's not exactly the same, but it could work. I linked them in this paragraph for you to Amazon, for easy finding.
To bring out the nut flavor in this Starbucks recipe I use unsweetened almond milk. I choose this instead of coconut milk or to even use heavy cream and water together to make keto milk.
If you don't need the nutty flavor you could also use the toffee syrup that's sugar-free.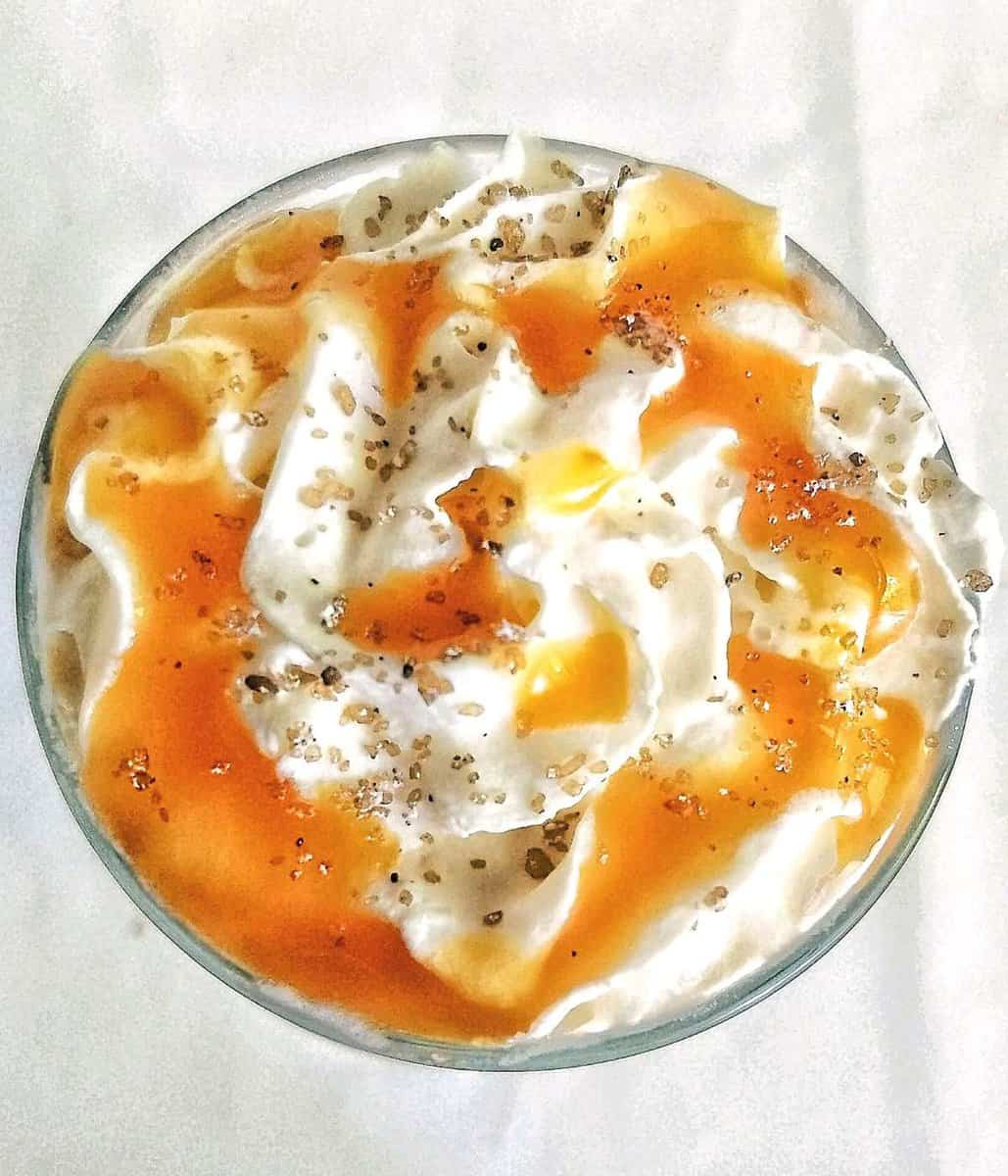 Cocoa Powder
Instead of using cocoa powder, you can use keto chocolate syrup very easily. There are multiple brands that you can choose from. I personally have found the Lakanto brand at my local store, so I have used that one. Other brand options are Enlightened, ChocZero, Hershey's Sugar-Free Syrup, and Pyure.
While testing this recipe out, I personally loved the version with syrup instead of powder. However, using the syrup would put the carbs above 10 and my website only creates recipes with less than 10 carbs.
How to Make Espresso Without an Espresso Machine
If you don't have an espresso machine you can easily make espresso in 3 different ways.
Extra Strong Coffee: For every 2 tablespoons of water, used 1 tablespoon of coffee grounds.
Espresso Powder: Stir 2 tablespoons of hot water with 1/2 tablespoon of espresso powder.
Instant Coffee: Mix 1 tablespoon of hot water with 2 teaspoons of instant coffee.
1 shot of espresso is 1 ounce or 2 tablespoons.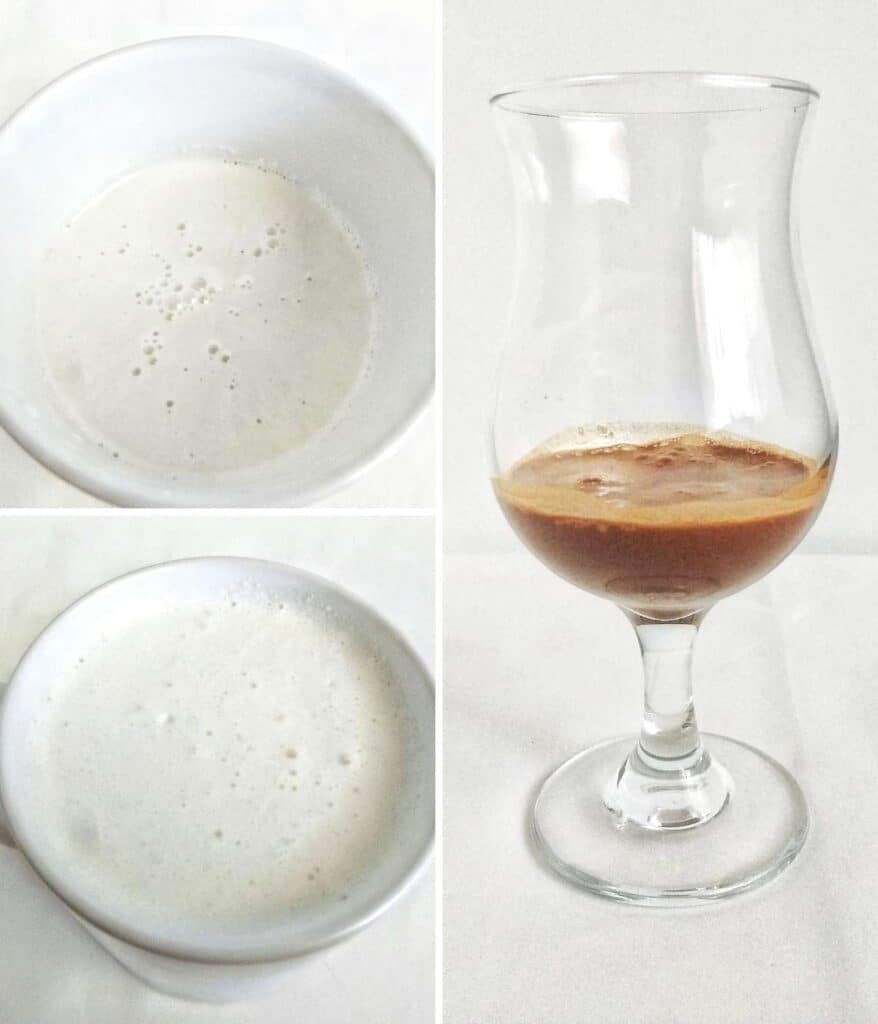 Instructions
You have some options on how you combine and heat your drink.
One way to make this latte simple is to use the microwave to heat everything, which I explain in the recipe card. However, there are other ways you could make the Salted Caramel Mocha latte.
A second way to heat everything up is to place all the ingredients in a small pot on the stove. Once everything is in there, mix with a whisk or a fork.
Then bring it up to the temperature that you want, just don't boil it. Lastly, pour it into your mug.
A third way is to create your espresso, add the caramel syrup, salt, and chocolate ingredient into the coffee cup, and mix.
Then in another cup, you had the milk and heavy cream and use the steam wand from the espresso machine to create foam. Lastly, pour the espresso mixture into your milk cup.
Frothing Steamed Milk
There are a few ways to froth the milk in the latte. Once the heavy cream and milk are heated, do one of these options.
Handheld milk frother: I absolutely love using my Handheld Milk Frother with its really fast motor. It's also incredibly easy to clean. For these reasons I use this tool every time I need to blend my coffees or froth milk.
French Press: To froth the steamed milk just keep plunging the plunger up and down until frothed.
Whisk: Add the milk to a heat-safe bowl. Tilt the bowl a little bit in your hands and whisk really fast until frothed.
More Copycat Starbucks Drinks
Recipe
The post Sugar-Free & Keto Salted Caramel Mocha: Starbucks Copycat appeared first on Keto Keuhn Nutrition.