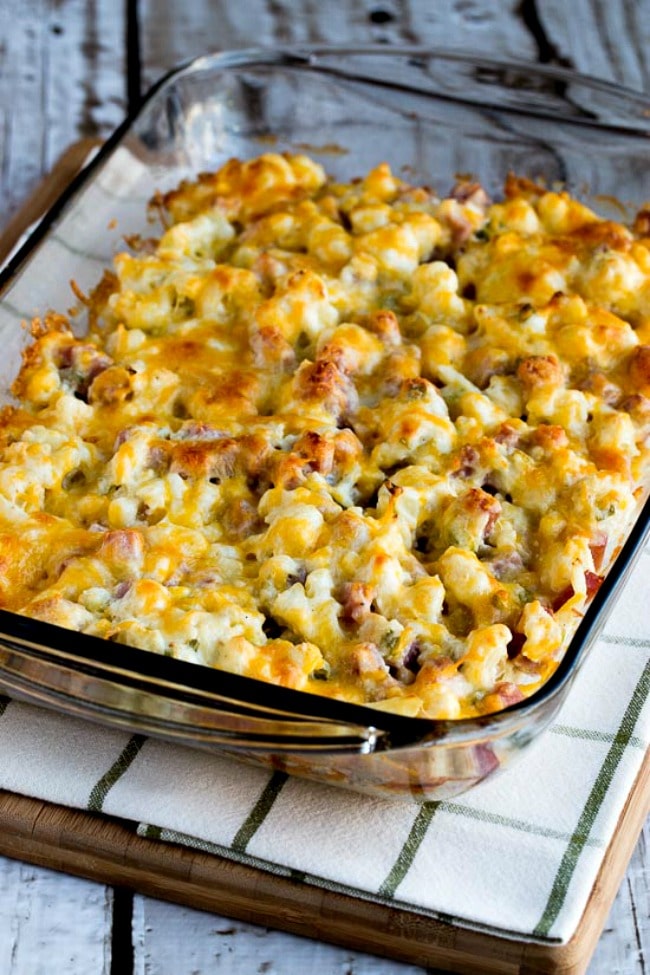 Ham and Cauliflower Casserole Au Gratin is definitely a treat for low-carb comfort food and this is one of my personal favorite casseroles!
PIN Ham and Cauliflower Casserole au Gratin to try it later!
I created this Ham and Cauliflower Casserole au Gratin on a January day a few years back when I wanted some low-carb comfort food. I had ham and cauliflower in the fridge, and thoughts of Twice Baked Cauliflower gave me the idea for this casserole with lots of cauliflower combined with ham, cream cheese, Greek yogurt, Parmesan, green onion, and cheese. I'd love this as a delicious low-carb dinner for a cold winter night!
Of course I had to include this one when I updated my collection of Low-Carb and Keto Casseroles recipes. There's not much I don't love about low-carb casseroles, but one of the biggest reasons I love to make them is the way they guarantee leftovers.
And most low-carb casseroles also freeze well, including this one, and how I love to pull dinner out of the freezer when I don't want to cook! (You can use the category for Can Freeze to find more dishes that freeze well.)
This low-carb casserole with ham and cauliflower has been wildly popular on the blog; hope you enjoy trying it if you haven't made this one yet!
The post Ham and Cauliflower Casserole au Gratin (Video) appeared first on Kalyn's Kitchen.